so yeah. my art has been ripped. which is kinda scary.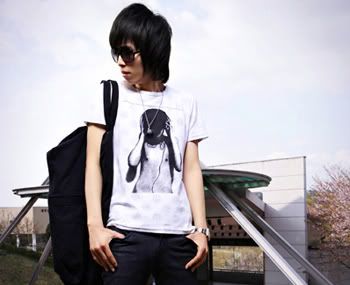 what you see here is my photo,
[link]
, printed on shirts by no less than three different asian clothing brands. two korean brands and one from hong kong. without my permission! I don't really know what to do.
BUT, I do not post this to get sympathy. I do it because it is very, VERY important that people do not spread photos around without the original owners approvement and proper links back to the original photos. this is an old photo of mine and I had it on this site for a long time without a watermark. so for all I know this photo could have been put out on some other site with no link back to me, so the "designers" of these shirts may have taken this as an ok-to-take-and-print-on-shirts-signal. I get really upset in these kind of situations, because I know I'm not the first one, or last for that sake, that this has happened to. but yeah, it doesn't really matter what I say. there are people out there who steals artwork no matter if they actually know who the owner is. GET A GRIP WORLD!
RESPECT COPYRIGHTS!
(PS: those shirts look really ugly. so I don't really see why they wanted this photo on shirts in the first place. xD )